Video / Media Screens
If you want to get your message out to your customers about specials and your other important information:
Install Wayne IO TV.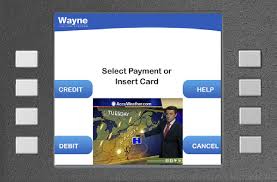 You can:
Differentiate Your Site Through Premium Programming
Improve Operations With Cloud-Based Technology & Support
Become The Preferred Station and Increase Loyalty
Benefits:
Free • No Hidden Fees
No Maintenance Fees
Cloud-Based Technology
EMV® Connectivity Readiness
Custom Retailer Promotional Ads(RPAs)
Premium Content
Best Customer Experience
Proven C-Store Sales Lift
EMV Compliance
EMV is a payment method based upon a technical standard for smart payment cards and for payment terminals and automated teller machines that can accept them. (Wikipedia). We are in the midst of updating all non- EMV equipment. This will allow sites to be more secure and be able to accept more secure forms of payment. Our Wayne EMV payment terminals are the latest in innovation and security.
Automatic Tank Monitoring with Off-Site Communications
Our Veeder-Root tank monitoring systems are more than just another "box on the wall" in your back office. Today's Veeder-Root ATG (automatic tank gauging) systems can be designed to take the hassle and frustration out of your environmental and regulatory compliance requirements. For petroleum storage tank owners there's lots of requirements for tank system monitoring. Veeder-Root and PPSCO can help you with a system that will fit your needs and make your life easier. There are also remote applications available if you have several or remote locations to monitor simultaneously.
Integrated POS Systems
We offer Verifone POS (Point of Sale) terminals that are fully integratable and can be enhanced with multiple terminals and peripherals. Verifone's POS's helps merchants manage their business and drive revenue by providing personalized, meaningful customer experiences beyond just accepting payments. Ready to use right out of the box, merchants can connect to value-added and commerce apps that build brand loyalty and uncover additional revenue opportunities.